Not So Good Public Restrooms
Linda has begun collecting photos of public restrooms that illustrate good (or BAD) restroom design. This will allow consumers to develop an eye for good design, safety features and assist in choosing designs for their own personal use. Keep in mind these restrooms are, in most instances, in daily use.
Not So Good Restroom #1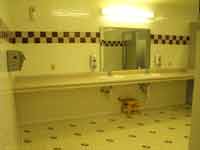 This particular public restroom is in a Salt Lake County church building. At first glance the spacious room gives rise to the hope that the stall would be as spacious as the rest of the restroom is. There are 4 stalls, side by side, in this space. While a full blown party could be held in the room adjacent to the sink, the wheelchair stall is barely a full 5 feet square and is a tight squeeze for a junior sized power wheelchair. A large adult chair would not fit here.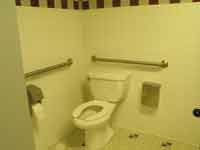 We had to remove one of the footplates and hangers to make the transfer to the commode. There is also only a few inches left in the space for a personal assistant to help. A full sized adult would never be able to squeeze in there.
A Possible Fix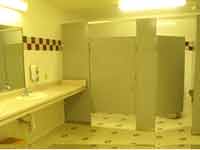 Cut 5-6 inches off the overhanging counter top and move all the stall fronts forward that same distance. Change the door swing to the opposite direction to prevent hitting anyone standing at the sink.