Remodeled Bathroom
Before
Limited space was available for remodeling in this bathroom so the configuration stayed basically the same. The biggest problems here were a leaking acrylic soaker tub (too deep for safety), no handheld shower and old vinyl flooring which was slippery when wet. The deep tub combined with slippery floors made transferring in and out of this tub very dangerous for everyone.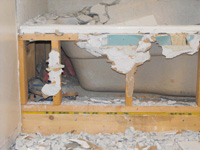 Previous installation done incorrectly
Acrylic bath tubs must be supported under the ENTIRE tub floor. This installation supported only the very center of the tub leaving the sides vulnerable to the weight of both water and occupant. Over time this section of the tub began to crack and leak. It was also too deep for a safe transfer both in and out requiring care assistants to use more back muscle for lifting than is safe.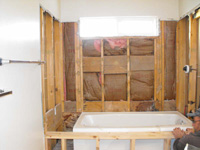 New cast iron tub and framing
We used pieces of cast off 2"x12"to provide nail supports which have been attached in two rows between the studs at the edge of the tub and then 24 inches on center above. This will facilitate easy installation of hand rails/grab bars without causing damage to the wall later if need be. We suggest taking photos AND measurements of the backing placement from the exposed edge of the tub before closing up the wall.
A shallower tub was installed on a raised platform to facilitate a seated transfer from deck to inside the tub. The tub is also shallow enough to allow care assistants to safely lift the client a short distance before performing a pivot turn on the tub deck. This made transfers MUCH easier.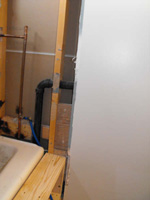 Support backing installed behind the toilet space
Again, cast off 2"x12" pieces have been used to provide backing supports for a wall mounted folding grab bar. Be sure to take pictures and measure from the floor before closing behind the drywall or tile.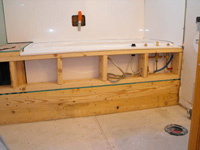 New tub set in with second set of new plumbing
In order to provide access for everyone using the same tub a separate deck mounted handheld shower, faucet and controls was added. A wall mounted shower can still be used by others as needed.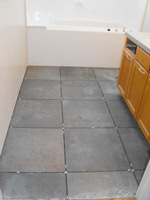 New Floor Tile
In order to provide better traction an indoor-outdoor porcelain tile with gritty finish was installed. This tile is meant for use in wet areas and will provide good traction regardless if it is wet or dry. The result is improved safety.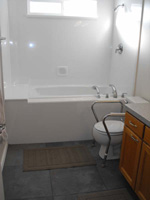 After