Ceiling Lifts
Ceiling Lifts are an effective, efficient and safe mode of transfer for many individuals if installed and used properly. It is important for architects, designers and contractors to ensure proper bracing is attached within the ceiling joist and beam system to provide proper attachment points for the track. Beams should be engineered to carry the maximum amount of weight recommended by the equipment manufacturer.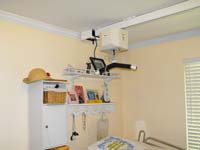 Ceiling lifts should be centered over the individual's bed. It is recommended the ceilings in new construction be high enough to allow for adequate lift of the individual from the bed without dragging or becoming entangled in bedding or the bed itself. Larger adults needing the higher weight capacity lifts may find themselves unable to maneuver once in the lift harness/sling when suspended from a lower ceiling.
Doorways through which the ceiling lift track must pass through need to be adapted with a "key hole" to allow for clear passage of the lift assembly and the individual through the door frame. The door should be able to close smoothly under the track, allowing for privacy and safety when the track is not in use.