Building a New House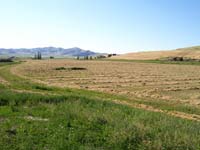 "Kaaos Farm"
(Thank You, Aunt Carol!)
November 2008
Last year we began an ambitious project aimed at building a universal designed home. Given there are precious few actual universal design house plans on the market and even fewer folks that know how to design one we had to start the project from scratch and learn as we go. Trying to fit a family into a home designed for special needs empty nesters was not an option. The last 12 months have been a learning process for everyone involved with the project.
While we have successfully completed plans, had them engineered and even aquired half the building permits required to get underway we have not been able to begin the actual construction phase of the project. Given the current state of our economy and new requirements by lenders we will be tabling the construction phase of the project for, hopefully, the short term.
In the meantime, we will continue to post new information, house plans and other resources and information as it becomes available.
To view the houseplans click on the links below.
For questions or more information regarding these house plans please click on Contact Us and we'll be happy to assist you.